Why Do This Online Course?
The need to better understand the way cities and human settlements work is becoming increasingly important, particularly with growing challenges such as climate change, social isolation, economic disruption, disaster recovery and rapidly changing technology.

Interest is growing in 'Place' as a concept and place-based approaches are being trialed around the world. 'Place' can provide a valuable focus point for government. It also provides a vision and process for different agencies, levels of government and local communities to better work together.

This course aims to provide some context and rigour to this interest.

Who is it for?

Whilst it is primarily written for an Australian context, it may be relevant for higher levels of government around the world, including central, Federal, State, provincial or regional governments. Whilst State, provincial or regional and central or Federal governments are usually quite different in their priorities and resources, from a placemaking perspective, they are similar as they sit at the strategic level, distanced from individual places, but having responsibilities for many places, cities and regions.

This course provides principle-based and practical placemaking guidance applicable at the strategic level. It will often group central, Federal, State, provincial or regional governments together under the umbrella term of "higher levels of government", or State Governments for short.

What will it help you with?

This course will enable you to:
Understand the broad overview of the way cities and urban areas work
Identify the potential roles for higher levels of government and the opportunities for place-based approaches
Discover the ideas and insights from placemaking professionals with decades of experience
Think like a placemaker
Build the confidence and skills to use place-based thinking and processes in your work
By the end of this course, you will be able to:
Identify the opportunities, challenges and benefits of place-based approaches
Assess the options and methods for implementing place-based approaches
Choose the right approach based on your circumstances
Utilise the Top 10 Tips for Placemaking in your work

Student feedback 1

"Great course with lots of relevant content!"
Student feedback 2

"Super beneficial because it was so practical! I am new to State Government (and fairly new to the public sector) and so I had only a vague idea of what placemaking is or could be from our agency's perspective. I thought placemaking was tactical urbanism or activation. I knew it had strategic merit but I didn't have the words to articulate what that meant or how I can participate in placemaking. Before this course I would not have called myself a placemaker but now I think I can call myself one!"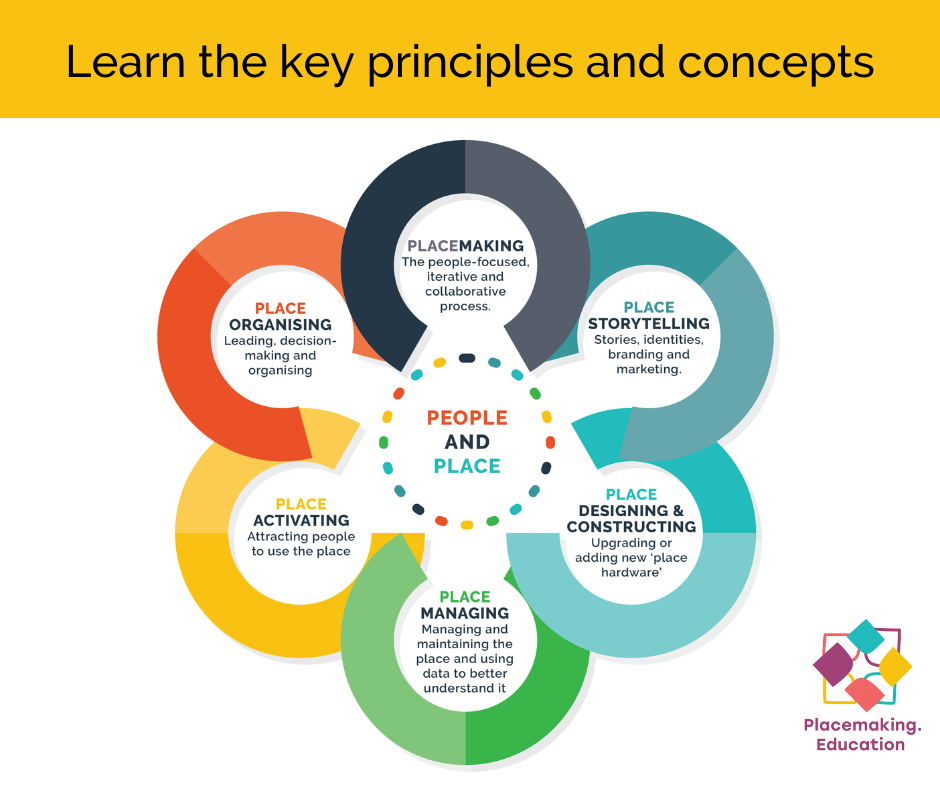 Learn the key principles
Including, but not limited to:
What placemaking is and is not
Collaboration and relationships
Fostering a positive, 'yes' culture
Focusing on the whole (the place) rather than the parts (the detailed elements)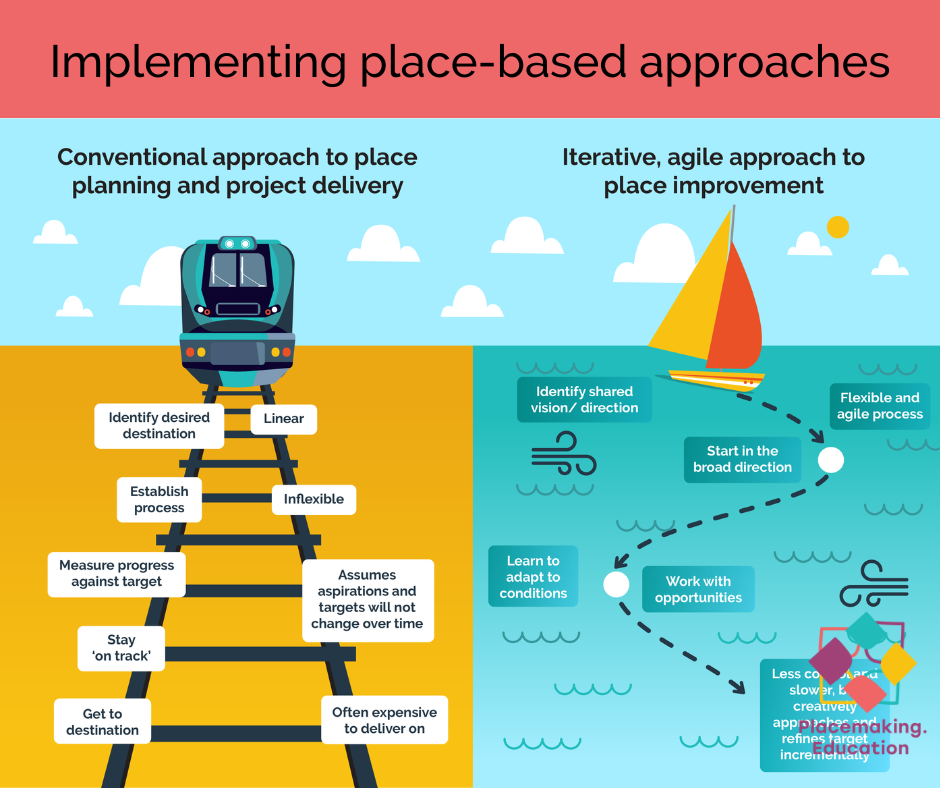 How to implement
Including, but not limited to:
Traditional masterplanning compared with place enabling
Common challenges and how you might solve them
How to structure a place-based process that is right for your circumstances based on your answers to 8 powerful questions the course poses and leads you through
The skills you need to know to help you be successful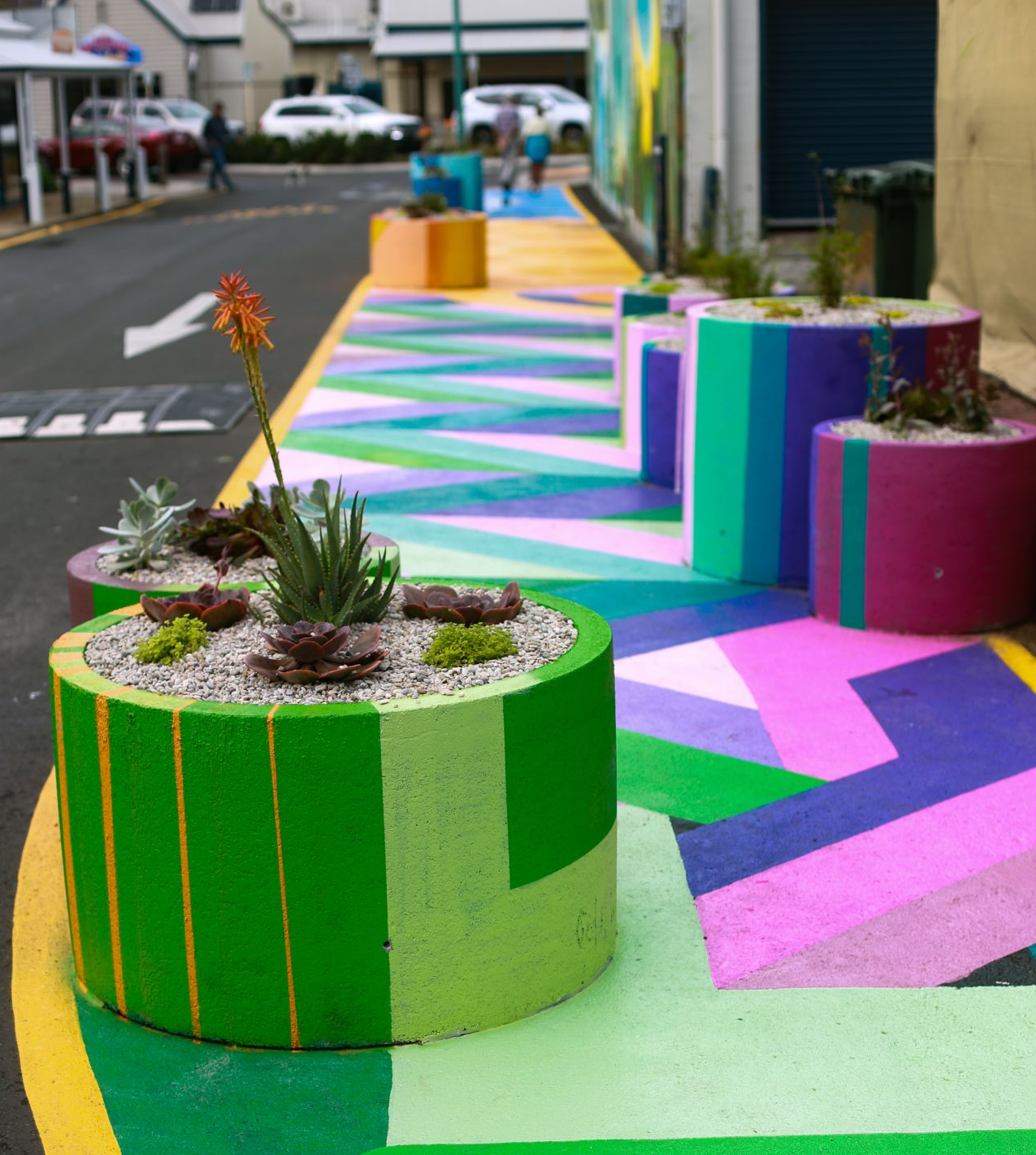 Learn from some of the
best placemakers
This course features ideas and insights from some of the leaders of the placemaking movement in Australasia:
Ethan Kent - PlacemakingX
Lucinda Hartley - Neighbourlytics
David Engwicht - Creative Communities International
Joanne Taylor - WSP
Brooke Williams - Fourfold Studio
Mike Fisher - Activation Manager
Dean Cracknell at Town Team Movement
They collectively have decades of experiences in placemaking and working with government agencies to achieve results.


We think that you will enjoy and benefit from completing this course.
If you are not satisfied with it within 30 days from date of purchase, we will refund the purchase price.
"This course did well in emphasising a permissions based, people led approach. That's where I think I got the most benefit from the course."
Get the price in your currency
The price for this course is listed in Australian dollars. You can convert the price into your currency by using the currency converter tool below.
Purchase courses for multiple students in one transaction

If you would prefer to purchase access for multiple students in one transaction and/or pay via tax invoice, please email your request to [email protected] and we can arrange it.

Contact Us
Email [email protected]