A bit of advice can go a long way!
Would you like to talk through some ideas, challenges or a project you are working on? Get some one-on-one time to talk with a experienced placemaker. It might be just what you need to take the next step.
Or register your interest in our new peer-to-peer group learning sessions.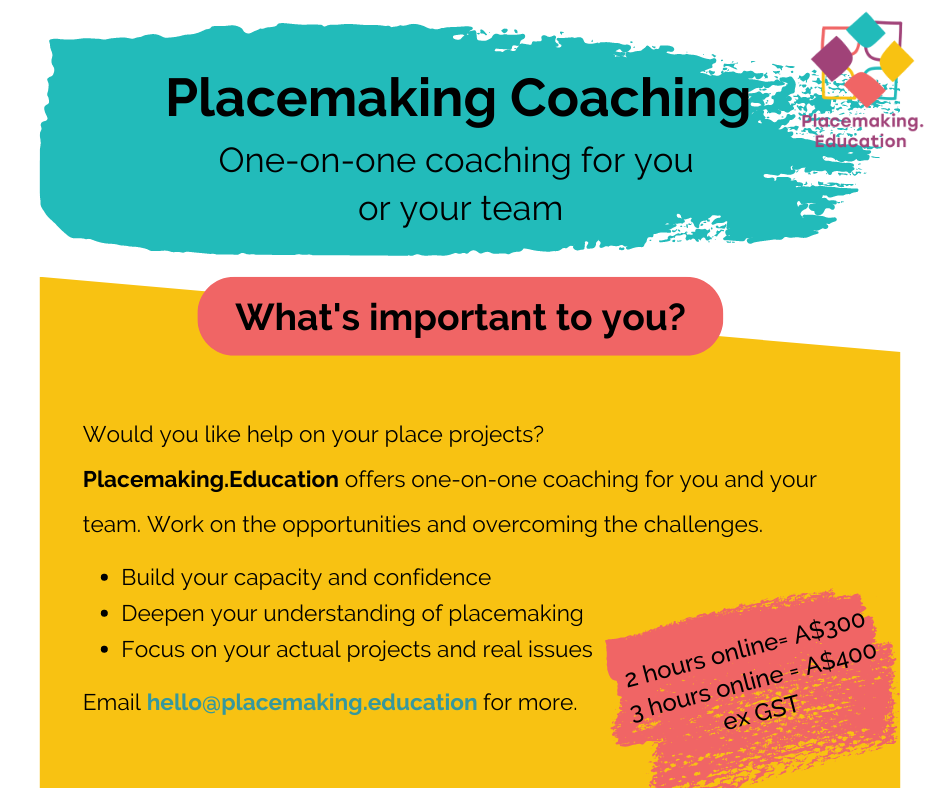 One-on-one coaching
Work on projects or topics that are important for you
Build your capacity and confidence
Develop your skills
Price: A$300 ex GST for a 2 hour online session
A$400 ex GST for a 3 hour online session(s)
Plus get 25% off online placemaking courses.
Email [email protected] to register
or find out more.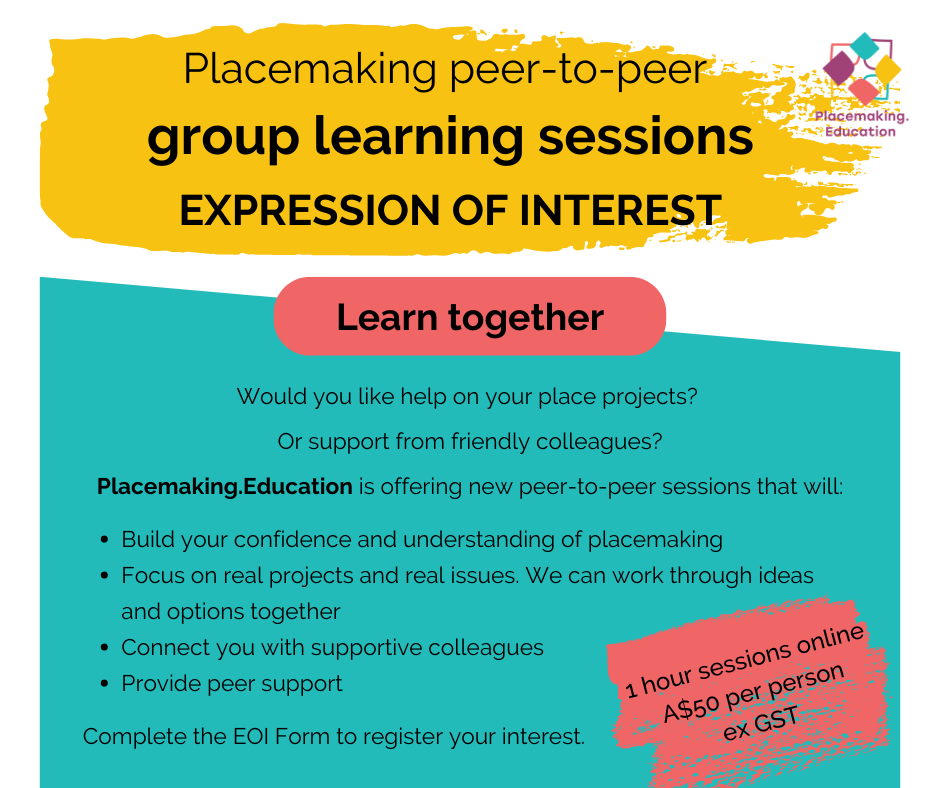 Group learning sessions
Connect with and learn from peers in these online group learning sessions
Build your capacity and confidence
Develop your skills
Price: A$50 per person ex GST for a 1 online hour session
Plus get 25% off online placemaking courses.
Complete the Expression of Interest via Google Forms
Or email [email protected] find out more.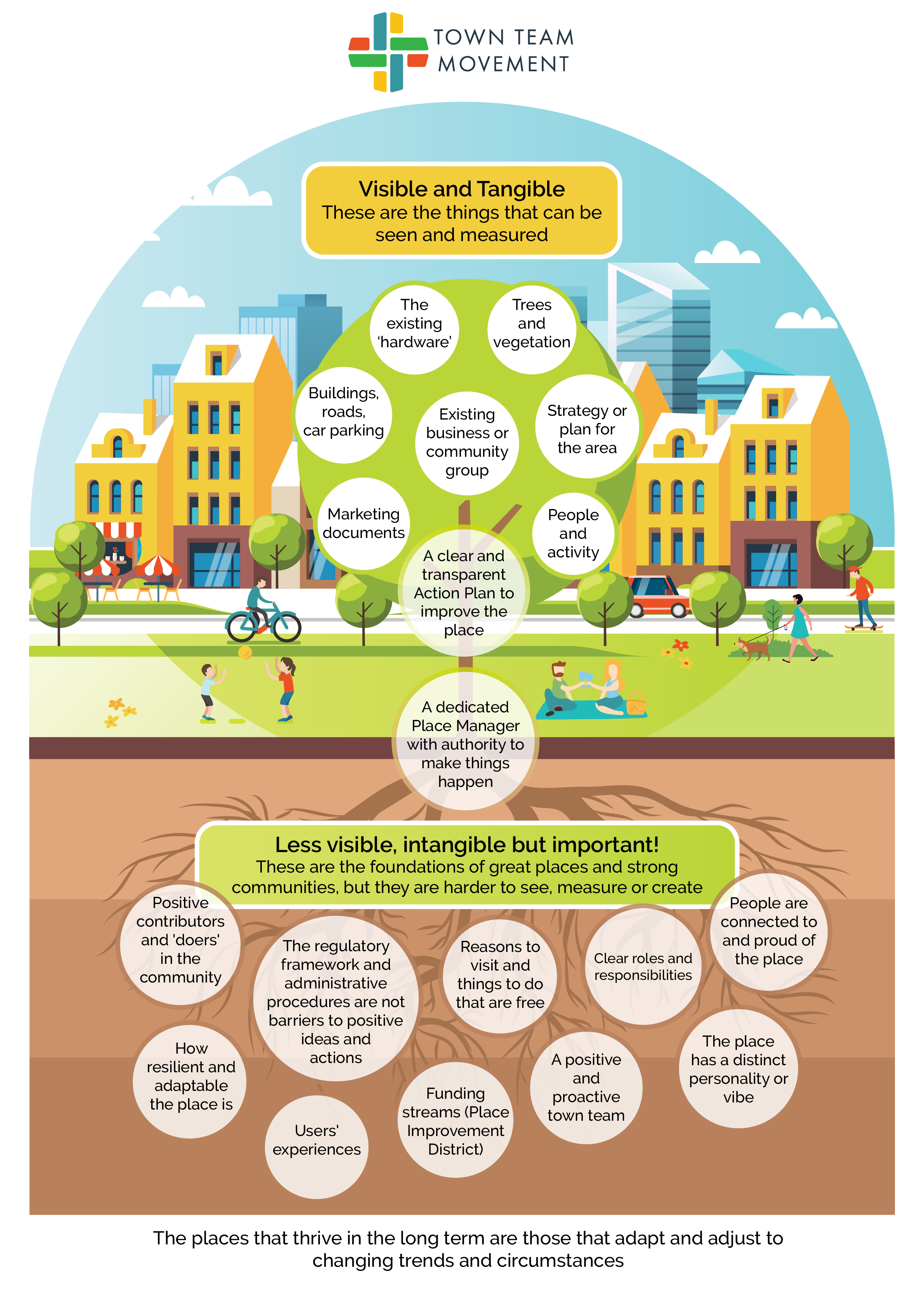 Placemaking coaching and group learning sessions can dig deeper into opportunities or challenges that are important to you
Get some one-on-one advice for you or your team with an experienced placemaker. We can talk through whatever is important to you. Get some fresh ideas and perspectives.
Or learn more from peers in facilitated group learning sessions.
Learn from real projects and case studies. Don't make the same mistakes as we have!
Sessions will generally be held via Zoom or MS Teams in time slots suitable for Australian timezones.


Thanks for submitting your information! Please continue with the checkout process.
Frequently Asked Questions


When will the sessions be? How do I schedule my appointment?
We will arrange suitable times for the one-on-one coaching sessions. The group learning session times will be informed by an expression of interest process. There is no obligation to attend sessions that are not suitable for you.
Who would my coach be?
The main coach will be experienced placemaker Dean Cracknell at Town Team Movement. He is the curator of Placemaking.Education. You find out more about his role and experience via LinkedIn.
What about timezones?
We'd like to help anyone in the world, but please bear in mind the placemaking coaches are based in Australia. We'll try and find a suitable time, but email us at [email protected] if you are in any doubt about timezone complications.
When are payments required?
Payments are generally required prior to sessions, however government organisations can arrange a purchase order and send through through to confirm intent to pay prior to the session.

Can I pay for coaching sessions via a tax invoice?
Yes. If you would prefer to pay via tax invoice, please email your request to [email protected] and we can arrange this.
Can I purchase coaching more than once?
Absolutely! If you find yourself in need of coaching more than once, simply purchase the coaching again.
Can I get a refund if I'm unhappy with my purchase?
If you are unsatisfied with your coaching, reach out to us to see if your purchase is eligible for a refund.